Esad Poško
Sergeant Major
Command Sergeant Major
OR9 (BIH-A)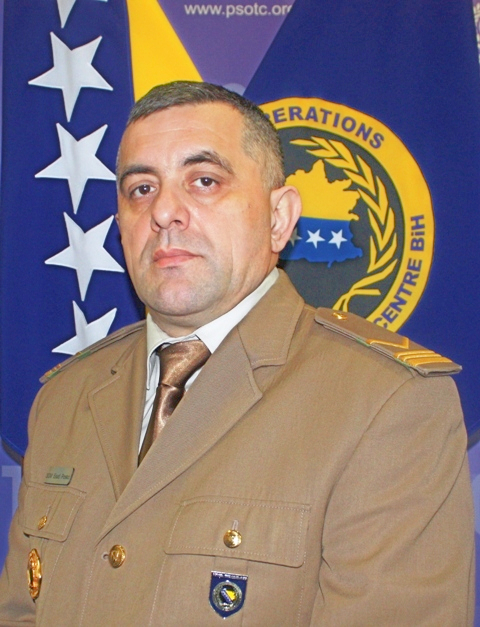 SGM Esad Poško was born in Jajce, Bosnia and Herzegovina. Prior to appointing as the CSM of the PSOTC of the Armed Forces of Bosnia and Herzegovina SGM Poško served as the Material Accounting NCO in the Air Force BDE.
SGM Poško's previous duties include duties on different levels. He served as the Platoon sergeant and Acting platoon commander at 517th BDE, the HHC First sergeant at the Combined battalion-501st BDE, the CSM of the Motorized battalion-501st BDE, Acting AF Support Command CSM. SGM Poško's staff duties include the Training sergeant at 1st battalion-517th BDE and MTZE battalion -501st BDE, the Civil Affairs NCO at 3rd battalion-2nd BDE.
Besides duties at the Armed Forces, SGM Posko was deployed in the NATO Resolute Support mission in IR Afghanistan.
SGM Poško's educational background includes both military and civilian education. He is a graduate of the US Army Sergeants Major Academy – Fort Bliss, USA. He attended different courses including the Civil Affairs Course, Fort Bragg, USA, NATO Crisis Response System for Experts Course, NATO School, Germany, The Sea/Land Border Security and Refugee's Control Course, MPSOTC, Greece, Tactical CIMIC Course, Ankara, Command and Staff Course, Pazarić, Bosnia and Herzegovina, Transition Consultant Course, Neum, Bosnia and Herzegovina. On civilian side of education SGM Poško is a graduate of the College for Informatics and Management, Prijedor, Bosnia and Herzegovina and holds the Bachelor of Management in Public Administration.
SGM Poško's awards and recognitions include the Honorary Citizen of the City of El Paso, Texas, USA, and the Top 20% Class, USASMA, Fort Bliss, USA, the NATO Non-Article 5 Medal, IR of Afghanistan, letters of commendation and other awards.
SGM Poško is married and a father of two kids, son and daughter.