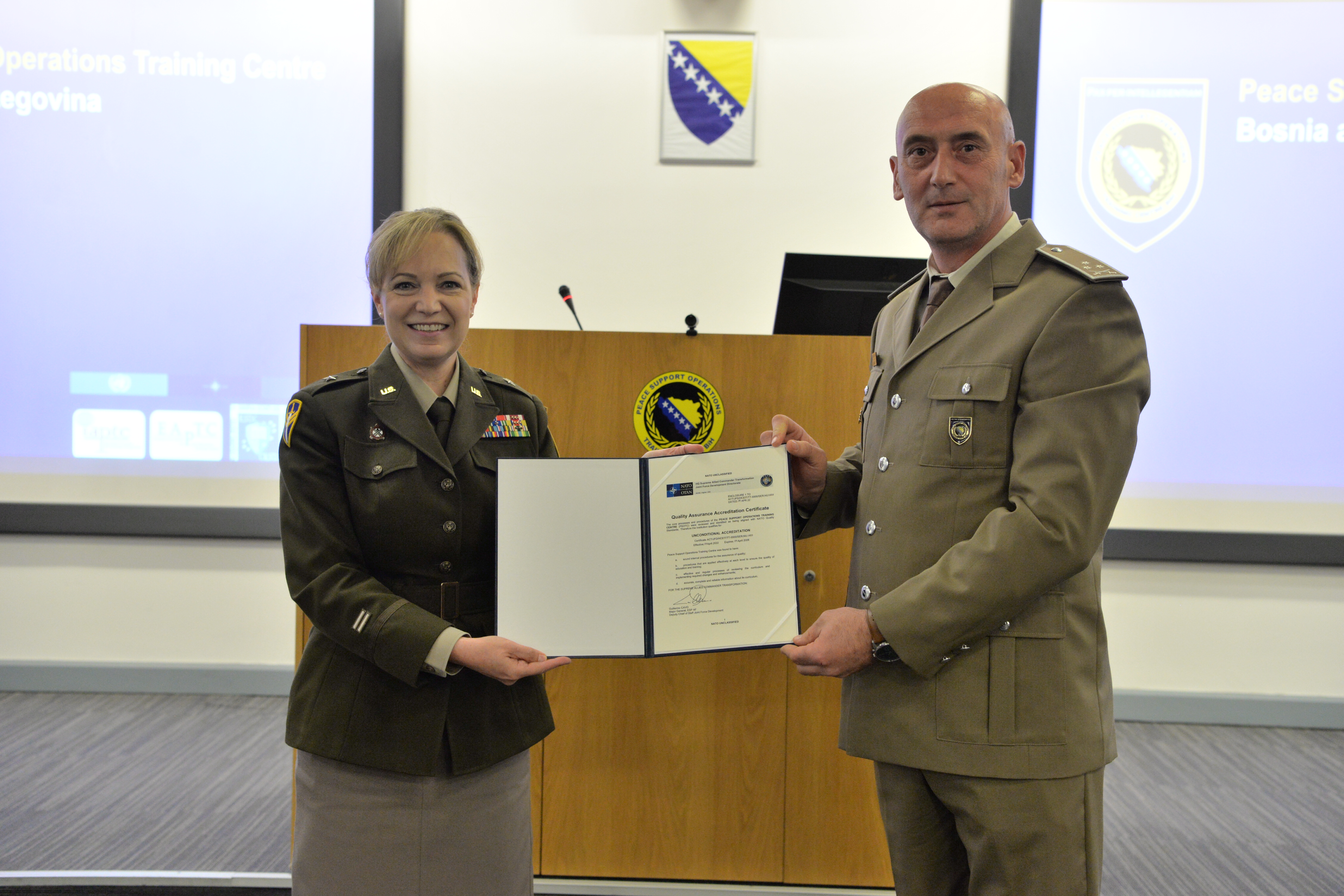 The Quality Assurance Accreditation Certificate was awarded by the NATO Allied Command Transformation and was officially presented to the PSOTC's Commadant COL Elvedin Omić by the Commander of the NATO Headquarters Sarajevo, BG General Pamela McGaha.
In his speech, PSOTC Commadant COL Elvedin Omić showed his satisfaction with this success and pointed out that Bosnia and Herzegovina is one of four countries that is not a member of NATO and has a Center with this type of accreditation. He shared PSOTC's vision to join the family of world leading and most preferable training centers, to continue to be an indispensable NATO partner in the domain of individual training for peace support operations.
COL Omić thanked Ministry of Defence of Bosnia and Herzegovina, Office of the Inspector General, Joint Staff, Support Command, Operational Command, TRADOC, for their selfless and continues support to PSOTC and assured that PSOTC will continue to boost the image of the Center as a reliable and remarkable institution in training and education for peace and security activities and peace support operations that will strive to provide its services to all countries of the world, globally.
During the presentation of the re-accreditation certificate, the Commander of the NATO Headquarters in Sarajevo, Brigadier General Pamela McGaha, said that today's recognition of the PSOTC is an indication that this Center has managed to reach world-class teaching standards and maintain them for more than a decade. General McGaha added that she is looking forward to seeing the PSOTC continue this tradition in the time ahead.
"The results of PSOTC in carrying out its mission are at an enviable level, which we owe to the training and professionalism of the Center's staff, but also to the help and support of international partners, for which I thank them on this occasion," said Minister Podzic in his address.
The Minister emphasized the importance of re-accreditation of PSOTC and said that the results of the work of this Center were recognized by the UN, NATO, the United States, and said that this is just one of the indicators of the need for greater support from state institutions, not only for this Center, but also the overall defense system in Bosnia and Herzegovina.